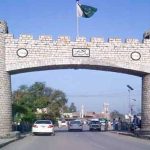 ISLAMABAD: Prime Minister Nawaz Sharif has said that friendship with China is the cornerstone of Pakistan's foreign policy as both the countries enjoy unparalleled relations in the contemporary world.
He was talking to Vice Chairman of Central Mil Commission, People's Republic of China General FAN Changlong in Islamabad on Thursday.
The Prime Minister emphasised that the time-tested friendship between the two countries is based on strong mutual trust, cooperation and convergence of views on regional and global issues.
Mian Nawaz Sharif said that the ongoing Strategic Dialogue, Consular Consultations and Counter Terrorism Consultations between Pakistan and China provide good opportunity to further improve their strategic partnership.
General FAN Changlong appreciated Pakistan's role in fight against terrorism and added that both countries share common view on combating the evil of terrorism and extremism. The mutually supportive cooperation in the field of defence is a critical factor in maintaining peace and stability in the region.
General FAN Changlong said that Pakistan has rendered huge sacrifices in the war against terrorism.