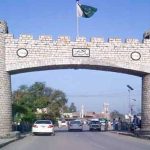 KARACHI: Funeral prayers of Sindh governor late Saeed-uz-Zaman Siddiqui will be held in Karachi on Friday (today).
Governor House spokesman stated that the funeral prayers of Justice (retd.) Saeed-uz-Zaman Siddiqui — who passed away on Wednesday — will be held at Governor House in Karachi at 1.30 pm today. He will be laid to rest at Gizri graveyard of the city.
President Mamnoon Hussian, governors of other provinces along with political figures and members of civil society are expected to attend the last rites.
Sindh Government had announced a day of mourning on the death of the governor on Thursday (yesterday). The national flags were flying at half mast as a sign of mourning.
Sindh governor Justice (retd) Saeed-uz-Zaman Siddiqui passed away in Karachi at the age of 79 on Wednesday. He was admitted at a local hospital for treatment of chest infection and breathing problem.
Justice Siddiqui had sworn in as the 31st Governor of Sindh on November 11, 2016. He replaced Dr. Ishrat-ul-Ebad who held the office for almost fourteen years.
Siddiqui fell ill soon taking oath of the Governor's office and remained under treatment for about 30 days and returned to Governor House on December 16, 2016.
Sindh Assembly speaker Agha Siraj Durrani will replace Siddiqui as acting governor of the province.