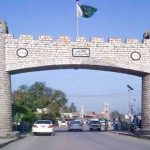 LAHORE: The funeral prayer of widely known lawyer and human rights advocate Asma Jahangir was offered at Gaddafi Stadium here in Lahore on Tuesday.
Maulana Haider Farooq Maududi led the funeral prayers which were attended by scores of men, women and children.
Chairman Senate Mian Raza Rabbani, Chairman Pakistan Cricket Board Najam Sethi, Chief Justice Lahore High Court, Barrister Aitezaz Ahsan, a large number of lawyers and people from different walks of life attended the funeral prayer.
Asma's body was transported to her house in Gulberg from the hospital where it had been kept in a morgue.
Her funeral procession then marched towards Gaddafi Stadium, with mourners surrounding the van carrying her body.
According to media reports, Asma will be laid to rest at her family's farmhouse in Bedian.
Jahangir, who co-founded the Human Rights Commission of Pakistan passed away on Sunday after suffering a cardiac arrest.