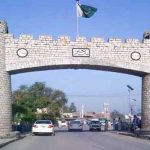 KARACHI: The death toll from Gadani shipbreaking yard explosion and fire has reached to 19, officials said Wednesday.
According to reports, at least 58 others were wounded on Tuesday when an explosion occurred and fire erupted inside an oil tanker at the Gadani yard.
"It can take another 48 hours to control the fire, as the tanker still has a significant quantity of oil present in the ship," said Commissioner Kalat Hashim Gulzai.
Local firefighters supported by the Pakistan Navy and coastguard were still battling to extinguish the fire Wednesday, Hashim said.
He said the contractor for the tanker work had been arrested and all ship-breaking at the yard has been banned while safety standards are reviewed.