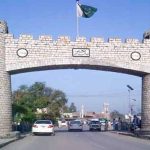 GHIZAR: Chairman of the Pakistan Peoples Party (PPP) Bilawal Bhutto Zardari Monday said that the people of Gilgit-Baltistan always got their rights and powers only during the PPP's governments.
He was addressing party convention during his visit to Gilgit-Baltistan. A large number of party leaders and workers attended the convention. The PPP chairman said that Shaheed Zulfikar Ali Bhutto and Shaheed Benazir Bhutto had started the relations between the people of GB and PPP.
He said that Zulfikar Ali Bhutto had abolished the FCR in GB and provided the wheat on subsidize rights. He said that Zulfikar Ali Bhutto always fought for the rights of the people of GB. He said that he had introduced judicial reforms in the area. Shaheed Benazir Bhutto and President Zardari took forward his mission, he said and promised that he would become the voice of the people of GB and struggle for the constitutional rights of the people of the area.
The current government was the result of rigged elections, he said adding that the government made promises with the people, but always took u-turn. He said that the government has taken anti-people decisions, which increased the inflation in the country, electricity, gas, bread are expensive, this is naya Pakistan. He said that the PTI's people politics start with them and ends with them. But, he added, the PPP's politics with the poor and ends with the poor. .