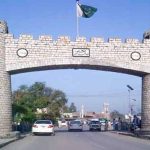 RAWALPINDI: Army Chief General Raheel Sahrif on Friday said that he would continue to serve the country even after his retirement.
Talking to journalists at Noor Khan Airbase before going to Okara in connection with his farewell visits, the COAS said that he had tried to do every difficult task for the sake of the country.
He said that after retirement he would devote his time for the welfare of the heirs of Army's martyrs.
He said that he would continue serving the country, adding that the work started by the Army for the country would also continue.
The Army chief will visit Okara to meet Pakistan Army soldiers and officers and address them.