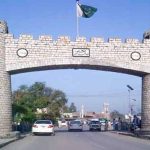 RAWALPINDI: Chief of Army Staff (COAS) on Saturday highly appreciated the security forces for successfully defeating terror attempt at Ghalani Camp in Mohmand Agency.
"Vigilance and prompt response of security forces have helped save many precious lives", he said as reported by the Inter Services Public Relations (ISPR).
Security Forces averted a suicide attack attempt on Ghalani Camp in Mohmand Agency as all the four suicide attackers were killed earlier in the day.
During the efforts to avert the attack, two security forces personnel dauntlessly laid their lives and effectively checked the suicide bombers to achieve nefarious motives.
According to details at around 0600 hours on Saturday, four suicide bombers who were heavily armed, attempted to enter Ghalani Camp and attacked residential area mosque where a large number of recruits were present to offer prayers.
Wearing suicide jackets the attackers opened firing in a bid to enter the mosque. The security personnel on the guard took them on and contained in the outer courtyard of mosque.
The security forces effectively surrounded the attackers while two of them detonated themselves and two others were shot at and killed by the security men, thus averting a possible colossal disaster.
During the attempt to encircle the terrorists, two FC soldiers embraced Shahadat and 14 others got injured due to firing from the attackers.