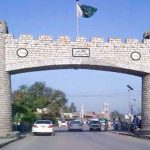 DAVOS: Prime Minister Imran Khan and German Chancellor Angela Merkel had in informal meeting on the sidelines of the World Economic Forum (WEF) 2020.
During the meeting, Angela Merkel invited PM Imran Khan to visit the Germany, which he accepted.
Earlier today, speaking at a ceremony of breakfast in Davos, the prime minister said that time has taught him how to calmly deal with the difficult situations, adding that several people get disappointed when they encounter with any tough moment but the human being should always be hopeful of good times.
Looking behind your past would greatly affect your victory as there is no Plan B when you are determined to be successful, he added.
The premier hoped that Pakistan will be developed under good governance. My vision is to turn Pakistan into a welfare state as envisioned by the founding fathers, he asserted.
Imran Khan said present government is spending money to revive industries by encouraging and giving them incentives. We want to promote industrialization as it will create wealth which will help spend money on the poor segments of the society, he went on to say.
The premier informed the audience that we have launched the country s largest and most comprehensive poverty alleviation program Ehsaas, for which 190 billion rupees has been allocated.
Referring to the challenges faced by the country including corruption, high debt and degeneration of institutions, the Prime Minister said his first year in power has remained remarkable despite harsh situation.
On Wednesday, PM Imran Khan met many world leaders on the sideline of the World Economic Forum (WEF) summit where he underscored the need to foster mutual cooperation, and also highlighted the need to spread Pakistan's positive image through digital platforms.
President of the International Monetary Fund (IMF) Kristalina Georgieva and President of Asian Development Bank (ADB) Masatsugu Asakawa called on Prime Minister Imran Khan in Davos, Switzerland on the sidelines of the annual meeting of WEF 2020.
Advisor to the Prime Minister on Finance Dr. Abdul Hafeez Sheikh, Special Assistant to PM Syed Zulfiqar Abbas Bukhari, Ambassador at Large on Investments Ali Jehangir Siddiqui, Governor State Bank of Pakistan Raza Baqir were also present. The meeting discussed economic and issues and development.