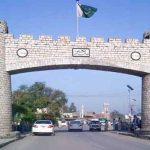 KABUL: President Ashraf Ghani on Thursday said a special court would be created to address cases of female prisoners being held at Badambagh jail of capital Kabul in order to prevent interference from powerful individuals.
According to a statement from the Presidential Palace, President Ghani visited the Badambagh prison this morning to inquire about the situation of female inmates.
The prison's chief briefed the president about the prisoners' situation and three female inmates shared their problems with the president and urged judicial organs to decide their cases on time.
The president after listening to the prison's chief and the inmates, said 40 eligible female inmates would be released from the jail under a presidential decree which had been completed.
Ghani added he himself oversaw amnesty decrees in order to prevent interferences.
The president ordered the creation of an impartial delegation comprised of female representatives from civil society institutes to look into female prisoners' cases.
He said a special court would be set up to prevent powerful individuals from interfering in inmates' cases. The president also asked jail officials to provide good living facilities to inmates.– Agencies