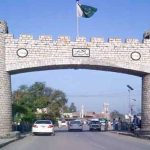 ISLAMABAD: Pakistan Peoples Party (PPP) has expressed concern over the decision of the ECP to deploy army inside all polling stations in Ghotki bye-election.
Talking to newsmen here on Friday, PPP leader Farhatullah Babar said that the Election Commission of Pakistan (ECP) has decided to deploy army inside the polling stations in Ghotki for bye-election. He said that the army was not being deployed in all polling stations in tribal districts, which was infested with terrorists, but all polling stations in Ghotki have been declared as sensitive for army deployment. Nayar Bukhar and other PPP leaders were also present on this occasion.
He said that the PPP was not expecting fair election in presence of the army inside the polling station as the results could be controversial like 2018 elections. He said that ECP was responsible for fair and transparent elections in the country. He said that the ECP has not yet issued code of conduct for the armed forces to be deployed at the polling stations.
He rejected the perception that the army was being deployed inside the polling stations on political parties demand. He said that the political parties never demanded deployment of army inside polling stations for 2018 elections. He said that about 95 per cent Form-45 were not signed by polling agents.