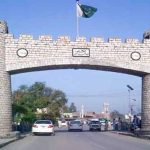 GILGIT: The polls for Gilgit-Baltistan Legislative Assembly are scheduled to be held on Monday, June 8.
Pakistan Army troops have been deployed in all districts of Gilgit-Baltistan for maintenance of peace and security in the upcoming elections for the region's Legislative Assembly.
According to latest reports, election material has been transferred to polling stations with military personnel deployed outside to maintain law and order.
Deployment of troops was requested by the Election Commission of Pakistan (ECP) and the civil administration. Army officers have been given special magisterial powers to be able to control the law and order situation and act against those violating election laws.
Over six hundred thousand people will be exercising their right to vote at the polling stations on Monday to elect 24 legislators. Eight members – three technocrats and five women – will be indirectly elected with nearly 467 candidates are taking part in the elections.
Electioneering campaigns ended on Saturday, 24 hours before the scheduled day of the polls.