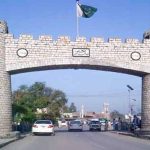 ISLAMABAD: Prime Minister Shahid Khaqan Abbasi has said that the federal government would continue to extend cooperation for equal development of all areas in the country.
Addressing the Gilgit-Baltistan Council, the Prime Minister highlighting unique geographic location of Gilgit-Baltistan saying that the area could greatly benefit from China Pakistan economic corridor project.
He said we have work in real terms for the socio economic development of the area.
The Prime Minister said it is the first government which practically started work on Diamer Bhasha Dam. Development of the country is our priority.
Shahid Khaqan Abbasi said it is a matter of great satisfaction that the democratic process is moving forward in Gilgit-Baltistan.
Chairman National Highway Authority Shahid Ashraf Tarar gave a detailed briefing to Prime Minister Shahid Khaqan Abbassi in Skardu today on the ongoing infrastructure projects including Jaglot-Skardu road in Gilgit Baltistan.
He said that 164 kilometers long Jaglot-Skardu road will be constructed at a cost of thirty one billion rupees in three years time.
The Chairman said that the FWO is carrying out construction work on the road on the built, operate and transfer basis.
Later, Prime Minister Shahid Khaqan Abbasi inaugurated Baltistan University in Skardu.