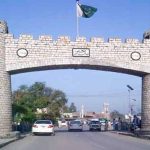 LAHORE: A girl, who went missing from Hyderabad and was believed to have joined Daesh, has been arrested from Lahore during a raid on a militant hideout on Friday, her family has confirmed.
Noreen Jabbar Laghari, a student of Liaquat University of Medical Science (LUMS), Jamshoro, went missing on February 10, 2017. Hyderabad Police had informed the media that the young girl was inspired by the ideology of Daesh and went to join them on her own.
The ISPR on Saturday said it had thwarted a plot to launch a major terror attack in Lahore on Easter Sunday, after an army raid in the city that killed a suspected militant.
Security forces also arrested a woman and seized suicide jackets and explosives, the statement added.
It has now been revealed that the girl is Noreen Leghari who has joined the militant outfit. She had shared her radical religious views on social media as well. Her brother told media that the family has been informed by the security forces about his sister.
A video obtained by the police, showed the girl left for Lahore alone on the day she had gone missing and then contacted her family through social media that she had reached the land of Khilafat.
Noreen Laghari is the daughter of Dr Abdul Jabbar Leghari, Professor at Dr M A Kazi Institute of Chemistry, University of Sindh. Professor Jabbar Laghari had said that his daughter left home for university on February 10 and attended morning classes; afterward, she was seen nowhere.
She is under investigation for her role in the Easter attack foiled by the forces and it is still unknown what was her relation with the terrorist killed in the encounter.