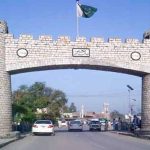 KARACHI: Gold price went up by $12 to settle at $1279 from $1267 in the international market.
Following footprints of international market, gold price witnessed a hike of Rs350 per tola in the local market to reach Rs50,300 from Rs49,950.
Likewise, price of 10gram gold was recorded at Rs43,114 after an increase of Rs300. However, silver price witnessed a slight decrease of Rs5 to settle at Rs725.