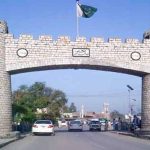 ISLAMABAD: The price of gold increased slightly on Friday and one tola gained Rs50 to reach Rs68,000 when trade opened.
The price has appreciated sharply this week, gaining Rs1,650 in just three days, and reached a historic high of Rs68,000 per tola, according to data compiled by the All Sindh Saraf and Jewellers Association.
Just like petrol prices, Pakistan also decides gold prices based on price movements in the international market and fluctuation in the dollar rates as well as the market forces of demand and supply. Pakistan imports gold in dollars so when the dollar goes up, gold prices also go up in the country.
The rising gold prices are in line with the international trend as gold futures are trading at a five-month high of $1,264 per ounce. On the other hand, the rupee has depreciated more than 25% against the dollar this year.
These factors have been determining local bullion prices. For example, gold prices have increased by 10% in the last three months to Rs67,950 per tola, up from 61,500 as of October 20. The trend may hold for a while given the uncertainty around the rupee-dollar exchange rate.
Gold traders believe the rise is temporary because the dollar rate is going up and it (gold price) will come down once the dollar becomes stable.
Another factor that may bring international gold prices down is the interest rates set by the American central bank, the Fed. When the Fed increases interest rates, investors move away from gold to money market, which offer higher profits. This causes a reduction in the demand for gold and puts downward pressure on its price. On Wednesday, the Fed increased its interest rate by 0.25%, but it revised its forecast for further hikes downward from two hikes next year as opposed to the three it planned earlier.