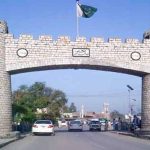 KARACHI: Gold price soared to a record high of Rs90,000 per tola (11.66 grams) in Pakistan after the yellow metal hit a six-year high in the world market.
All Sindh Saraf and Jewellers Association (ASSJA) revised the bullion price up by Rs900 to Rs90,000 per tola after the precious metal, considered a safe haven, surged $15 per ounce (31.10 grams) to the six-year high at $1,545 in the London market during the day.
"The US-China trade war kept impacting the world economy. The situation invited extensive buying of bullion across the world," Association President Haroon Chand said.
He said the trade war between the two biggest economies of the world had not only impacted their respective currencies but also the currencies of other nations.
"The situation prompted many, including Russian and Chinese central banks, to convert their foreign currency reserves into gold in order to escape losses in the aftermath of depreciation of their currencies," he said.