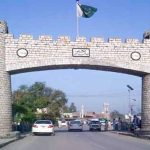 ISLAMABAD: National Security Adviser Nasser Khan Janjua has said that good governance is inevitable for tackling non-traditional challenges to the national security.
He was addressing inaugural session of a seminar titled 'Non- Traditional Security Challenges to Pakistan' in Islamabad on Wednesday.
The Adviser stressed the need for devising a comprehensive strategy to address the challenges posed by non-traditional security threats.
He said negative elements are potential threat to national integrity and security and urged the need to bring them in the national mainstream.
He said provision of basic facilities including food, health, education, employment and justice plays an important part in country's security.
He said peace has been restored in the country due to government efforts during the past four and a half years.