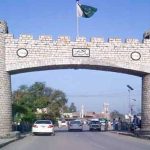 WANA: Goods worth millions of rupees were gutted as fire broke out in the South Waziristan Agency headquarter hospital in Wana on Saturday night, hospital administration said.
The hospital administration informed, the fire erupted due to short circuit adding that office of the agency surgeon and medical store was completely gutted in the fire. Major portion of the TB ward also suffered damages in the fire, administration said. "Medicines worth millions of rupees were gutted as fire engulf the medical store," administration revealed.
Meanwhile, the hospital administration has launched investigation into the incident. However, local people said that the fire caused great damage to unavailability of the fire brigadier department fire tenders in Wana. They added that earlier a low category fire had caused great damage to Wana Degree College due to the unavailability of fire tenders in the area.