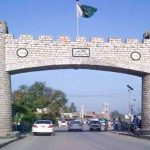 ISLAMABAD: Interior Minister Ahsan Iqbal has said that the government would complete its term and the Election Commission of Pakistan would conduct the next general election on its due time.
Talking to media in Islamabad, the minister said Pakistan Tehreek-e-Insaf (PTI) Chairman Imran Khan was calling for general elections earlier before its schedule because he feared his party's nominated candidates would not be elected in the Senate elections.
The interior minister reiterated that the government would complete its term adding that every Pakistani believed that the country was on the path of progress.
Ahsan Iqbal added that India was using Afghan soil for terrorism in Balochistan.
He said that the terror incidents were an attempt to sabotage multi-billion China Pakistan Economic Corridor (CPEC) but hoped that the government would resolve all such issues in coming times.