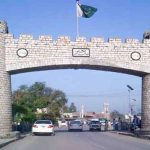 ISLAMABAD: Minister of State for Interior Shehryar Afridi has said that Asia Bibi's name could not be placed in Exit Control List (ECL) until she is proven guilty of blasphemy adding that they would implement orders of the Supreme Court (SC).
In an interview with foreign media outlet, the minister while commenting on the recent protests of religious parties against the SC's verdict acquitting Asia Bibi in blasphemy case said that some elements were damaging properties out of their hatred and for their vested interests and agendas.
He added that all the arrested persons would be dealt in accordance with the law adding that no compromise on rule of law would be made.
The Minister said, "Stance of the Prime Minister and other officials is crystal clear for violators and those who challenge rule of law" adding that a country stands as "Banana Republic" where rule of law is compromised.
Answering a question regarding Asia Bibi, Sheryar Afridi said that putting a person's on ECL was out of question unless he is proved criminal and added that they would implement the top court's order – whatever it might be – in this connection.
He further said that every citizen of Pakistan was responsibility of the state irrespective of any discrimination and no one would be given the license to endanger people's lives.
The Minister further said that Asia Bibi and her family was in Pakistan and the government was proving them security.