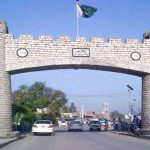 ISLANABAD: Parliamentary Secretary for Cabinet Secretariat Raja Muhammad Javed Ikhlas Friday informed the National Assembly that the government is strictly implementing laws for safety and freedom of wild life.
During the Question-hour, he said, the provincial, AJK and Gilgit-Baltistan governments are also implementing the laws strictly.
He said, that the government had taken various steps under the Sustainable Development Goals to achieve climate change targets.
He said that the government has ratified the Paris Agreement on climate change in November, 2016.
In February 2016, he said, Pakistan Climate Change Bill has been passed unanimously by both Houses of the Parliament.
He said, the National Forest Policy has been approved by the Council of Common Interests (CCI).
He said, the Green Pakistan Program had been launched under directions of Prime Minister for the revival forestry resources and conservation of biodiversity.
He said the Ministry of Climate Change has assisted the government of Balochistan for declaration of Astola island off Pasni along the Balochistan coast as Pakistan's first Marine Protected Area.