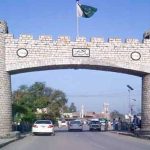 PESHAWAR: The Khyber Pakhtunkhwa Governor, Shah Farman has directed to rehabilitate the Warsak Canal Badhber commonly known Uch Nehr in Peshawar under the Remodeling Warsak Canal System project on emergent grounds.
He was presiding over a high level meeting at Governor's House, here on Tuesday. The provincial Secretary Irrigation, Muhammad Saleem, Project Director, Zulfiqar Ahmad and concerned senior officials were also present on the occasion.
The project director while briefing the Governor said that 186,400 feet long Warsak Lift Canal bears the discharge capacity of 200 cusec water to irrigate 46400 acre agricultural land.
On a point, he further informed that Rs.860 million will be required to rehabilitate the canal on emergent basis which also includes the cost on up-gradation of pumps.
The irrigation channel, it was added, was constructed in 1960 and with the passage of time its working condition has been deteriorated.