PESHWAR: The Khyber Pakhtunkhwa Governor Hajji Ghulam Ali on Thursday appointed an interim cabinet.
According to notification issued from governor house, Governor in consultation with the interim Chief Minister Azam Khan appointed 15 members of the caretaker cabinet of the Khyber Pakhtunkhwa.
The interim cabinet of caretaker Chief Minister Azam Khan will likely take the oath today at Governor House.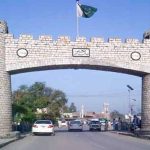 Those are included in the cabinet are former Senator Taj Mohammad Afridi, MNA Abdul Haleem Qasoriya, former MNA Hamid Shah, ex-IG Syed Masood Shah, and former Senator Zafran.
Other cabinet members are Advocate Sawal Nazir, Bakht Nawaz, Fazal Elahi, Adnan Jalil, Shafiullah, Shahid Khan, Malik Khushdil Khan, Mohammed Ali Shah, Justice (R) Irshad Qaiser, and Manzoor Khan Afridi.
Earlier on Thursday night, the KP governor Hajji Ghulam Ali and caretaker CM Azam Khan held five-hour-long meeting deliberating on the interim provincial cabinet. Mahmood Khan, former chief executive, however, refused to participate in the consultation process.