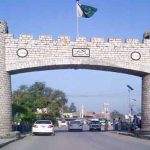 PESHAWAR: The Khyber Pakhtunkhwa Governor Engr. Iqbal Zafar Jhagra has appreciated the tremendous progress made in the fight against Polio in FATA, resulting of no polio case during 2017.
He was presiding over a meeting of the Task Force on polio eradication in FATA at Governor House Peshawar on Tuesday wherein overall polio programme and progress of anti-polio campaigns in FATA was reviewed.
The governor directed the political agents and agency surgeons to ensure that not a single area in FATA is left without polio teams. Further, he said, access of independent monitors to entire FATA should also be ensured besides keeping check on the quality of campaigns, especially in the far flung and bordering areas of FATA.
The Governor directed that separate task teams should be assigned to plan and oversee vaccination of children among mobile population while in transit. He said female participation in polio teams should be increased as the citizens of FATA are now much aware of the importance of vaccination. He directed political agents and agency surgeons to take every possible initiative to ensure that no child across the region is left unvaccinated.
Prime Minister's Focal Person on Polio Eradication, Senator Aysha Raza Farooq, National EOC Coordinator Dr. Rana Safdar, Coordinator EOC FATA, Dr. Muhammad Fida Wazir, UNICEF team leader for Polio in Pakistan Aidan Oleary, representatives of WHO, Bill and Malanda Gates Foundation (BMGF), Rotary International, Principal Secretary to Governor, agency surgeons, political agents, commissioners, deputy commissioners and officials of health departments were amongst the attendants.
Earlier Senator Ayesha Raza welcomed the tremendous progress shown by EOC FATA Team in improving the quality of campaigns. She also emphasized to sustain the progress made.
She said "our aim is to eradicate polio from the region which needs proactive approach towards filling the gaps and quality of campaigns". She said, our focus should be on improving monitoring of campaigns and vaccinating children while in travel to and from Khyber Agency, FR Tank, South Waziristan Agency, North Waziristan Agency, Mohmand Agency and Bajaur Agency. She said "we need to concentrate our efforts on ensuring that FATA sustains as polio free this year".
Meanwhile, EOC FATA representative Dr. Nadeem Jan briefed the Governor Khyber Pakhtunkhwa and participants of the meeting about the achievements made so far as well as future plans for 2017 on polio eradication. The progress in achieving the higher standards of polio campaigns throughout 2017 was considered the hallmark of FATA performance. So far no polio case has emerged during 2017 in FATA.
While appreciating the support provided by law enforcing agencies in improving access of polio teams in FATA, Governor stressed the need to develop strong communication network and coordination among agency teams as well as with Khyber Pakhtunkhwa to ensure vaccination of every child in every campaign.
Meanwhile; Governor Khyber Pakhtunkhwa while inaugurating first cash assistance ceremony for secondary schools girl students, said that the incumbent government is taking effective steps to promote quality education in FATA to bring it at par with other developed areas of the country".
Governor also appreciated the support of WFP in promotion of female education in FATA and he stressed to ensure transparency in education system.
Governor said, "the present Government is fully focusing on promoting the quality education in FATA which is the backbone for development, with special attention on increasing the number of girl students and reducing the drop out. The Government is joining hands with the WFP for both relief and recovery operation in FATA to rehabilitate disrupted livelihoods, enhancing enrollment and addressing malnutrition amongst children and mothers, he siad.