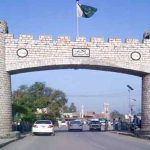 LAHORE: After Governor House in Sindh opened its doors to public for the first time, it emerged on Sunday that the Governor House in Murree has been made accessible to the public as well.
The decision came after Governor Punjab Chaudhry M Sarwar gave the order upon Prime Minister Imran Khan's directives.
Public will be able to visit the Governor House in Murree from 10 AM to 6 PM.
On Sept 7, Sindh Governor House opened its door for citizens. Speaking to the media, Sindh Governor Imran Ismail had said a complaint cell would be created at Gate Number 4 of the Governor House. "During the week, for a day I will monitor the cell," he said.
The public has been allowed to walk in the spacious garden and permitted to enter the historic building.
Following the win in the recent general election, the Pakistan Tehreek-e-Insaf said it would take austerity measures to curb excessive expenditures and promised to end the VVIP culture of government functionaries.
The party's nominated governors in Sindh and Punjab, Ismail and Chaudhry Sarwar, had also promised to use the minimum resources for themselves from the government expenditure.