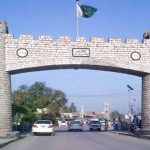 Acting upon instructions of provincial governor Shah Farman, two Khyber-Pakhtunkhwa universities have moved to issuing strict dress code policies, banning tight-fitted jeans, tee-shirts and makeup among other things. The first to comply was Hazara University in Mansehra, which issued a notification on January 6, putting the order into effect. As Per said notification, all university students, faculty and staff were thenceforth required to adhere to a new dress code policy, as prescribed by the university chancellor.
According to the policy, termed illiberal and austere by many students, girls were barred from wearing tee-shirts, fitted jeans, heavy makeup and jewelry on campus. They could also no longer carry fancy bags or purses. Boys on the other hand, were banned from sporting tight jeans, wrist chains, long hair, pony-tails and fashionable beard cuts, on university grounds.
Bacha Khan University in Charsadda also passed a similar recommendation in its syndicate meeting; eventually adopting the same stringent dress code polices as Hazara University.
According to former Peshawar University Professor Dr Ijaz Khan, who holds more than 30 years of teaching experience, he has never heard of a policy like being enforced on university levels students in the developed world.
On the other hand, Chief Minister's Advisor on Higher Education Kamran Bangash, while addressing the situation, failed to see any issues with the dress code policy, instead choosing to extol its virtues.