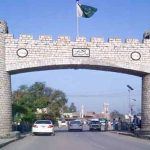 PESHAWAR: Governor Khyber Pakhtunkhwa Haji Ghulam Ali has said that he wants free, peaceful, and fair elections in the province.
Talking to senior journalists at the Governor House, Haji Ghulam Ali said that he has consulted with the Election Commission and plans to hold further consultations within two days. He said that he has also met with the President of Pakistan regarding the upcoming elections. He said that he has inquired about the preparations and requirements for the elections from the provincial government. He said that the Election Commission has also held a meeting regarding the security and law and order situation in light of their concerns. He added that the Commission will be meeting soon and he hopes that no decision will be taken that causes difficulties.
The people of the merged districts are protesting in Islamabad, demanding that the elections should not be held before the census and new delimitations, he said. He urged all political parties to come together and reach a consensus, and make decisions that are in the best interest of the country. He said that they have accepted the Supreme Court's decision, and Punjab and Khyber Pakhtunkhwa are ready to hold elections as soon as possible, but they want to see ground realities before making any decisions.