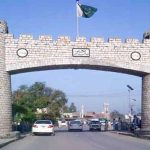 LAHORE: Punjab Governor Omar Sarfraz Cheema on Wednesday penned a letter to Chief of Army Staff (COAS) Qamar Javed Bajwa urging him to play his due role in the implementation of constitutional framework in the province.
Expressing his concerns over the prevailing political crisis in the province, the Punjab governor appealed to the army chief to play his role to restore people's confidence in provincial and federal governments.
Meanwhile, he also sent copies of his letters to the prime minister and the president over the Punjab crisis to the army chief.
Earlier in the day, Omar Sarfraz Cheema wrote a letter to Prime Minister Shehbaz Sharif about the political and constitutional crisis in the province.
In the letter, the Punjab governor vowed to protect the country's Constitution by utilising all of his skills and abilities.
Declaring Usman Buzdar's resignation as controversial, Cheema accused the PML-N of securing the support of PTI's defected lawmakers and added that the turncoats were even presented before the media.
The governor further said that he had written a letter to the president to bring all the facts into his knowledge and sought his guidance in this regard.