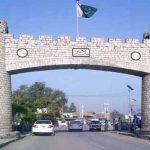 LONDON: Prime Minister Shahid Khaqan Abbasi on Thursday said that the merger of FATA with KP is part of the agenda and some reservations raised are being allayed.
Talking to media in London, Khaqan Abbasi reiterated that the government would complete its tenure and elections would be held on time. "The government will complete its tenure and elections will be held on time," said the prime minister, reiterating the government's stance.
The premier further said that Ayaz Sadiq's statement was his personal opinion and he is independent as the speaker of the national assembly.
The speaker of national assembly had stated on Wednesday that he fears the assemblies will not be able to complete their tenure.
"Maybe it was portrayed out of context, it is Ayaz Sadiq's personal opinion," said Abbasi.
Along with the prime minister, Punjab Chief Minister Shehbaz Sharif and Foreign Minister Khawaja Asif also arrived at Hasan Nawaz's office in London to meet party leader and former premier Nawaz Sharif.
Meanwhile Khawaja Asif maintained that having differences over the issue is natural as the issues goes back centuries.
The foreign minister further added that issue will be resolved soon.
In the high-level meeting of the top brass of the Pakistan Muslim League-Nawaz (PML-N), Pakistan's political and economic prevailing developments are being discussed.
Nawaz's daughter Maryam, Shehbaz's son Salman, and other members of the family are also present at the meeting.
Speaking to the media before heading into the meeting, Asif reiterated that the government will complete its tenure.
"There is no threat to the government. Rise and falls happen," he said.
Abbasi said since the leaders were in London, they decided to meet Nawaz and there was no specific agenda for the meeting.
"Since we were in London, we thought we will meet Nawaz too."
Referring to the special OIC summit held on Wednesday in Istanbul, the premier said that hopefully the United States will ponder over the decision it took after heads of Muslim states clarified their stance on Jerusalem.
Earlier, the senior government figures arrived in London after a one-day visit to Turkey for the Organisation of Islamic Cooperation's emergency summit on the status of Jerusalem.
The PML-N leaders also met former premier Shaukat Aziz at his London residence yesterday to offer their condolences on the demise of his son.