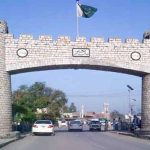 ISLAMABAD: The government has approved deployment of 120 contingents of Pakistan Army troops in Diamer district by December 2020.
According to sources, this approval was granted by the federal cabinet through circulation on the directive of Prime Minister Imran Khan. The Gilgit-Baltistan Interior Department had requested army deployment under Article 245 of the Constitution.
Threat alerts were received during the acquisition of land for the construction of the dam. The security of those working on the dam and other resources will be overseen by the Pakistan Army.