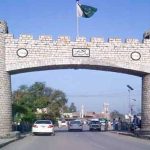 PESHAWAR: Pakistan Television's senior actor Iftikhar Qaiser was given a Rs50,000 cheque on the directions of Prime Minister Nawaz Sharif.
The actor is suffering from severe illness owing to multiple health complications from the past several months.
He is undergoing severe financial distress and is unable to have his treatment due to lack of resources.
The officials of Pakistan Baitul Maal (PBM) in Khyber Pakhtunkhwa handed over the cheque to Iftikhar Qaiser on behalf of PBM Managing Director Barrister Abid Waheed Sheikh.
Free treatment of the actor has also been approved by the government.