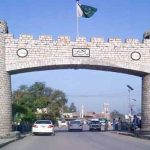 ISLAMABAD: International Monetary Fund (IMF) review mission led by its Chief Nathan Porter called on Finance Minister Ishaq Dar in Islamabad on Tuesday.
Finance Minister Ishaq Dar has assured the International Monetary Fund that Pakistan is committed to work with it to secure an agreement to conclude the ninth review under the Extended Fund Facility.
The meeting discussed and reviewed the economic and fiscal policies and reforms agenda to accomplish the 9th review under the Extended Fund Facility.
The finance minister briefed the mission on the fiscal and economic reforms and measures being taken by the government in different sectors including bridging the fiscal gap, exchange rate stability and in energy sector for the betterment of the economy.
He said reforms are being introduced in power sector and a high level committee has been formed for devising modalities to offset the menace of circular debt in gas sector.
Expressing the government's resolve to complete the current IMF programme, Ishaq Dar said Pakistan is committed to work with IMF for reaching an agreement to complete the 9th review under Extended Fund Facility.
On the occasion, the IMF mission chief expressed the confidence that Pakistan would meet the IMF requirements for the completion of 9th review.
He hoped that Pakistan would continue towards its progress on reforms in various sectors and will complete the IMF Programme effectively and in time.
He added that the IMF and Pakistan will be working together on fiscal reforms.
The IMF mission is in Pakistan to deliberate on policies aimed at restoring domestic and external sustainability, strengthening fiscal position and power sector reforms.
The talks between Pakistan and the IMF on technical issues will continue till February 2, 2023.
According to foreign news agencies, Pakistan is gripped by a major economic crisis, with the rupee plummeting, inflation soaring and energy in short supply as IMF officials visit to discuss a vital cash injection.
Prime Minister Shehbaz Sharif for months held out against the tax rises and subsidy slashing demanded by the International Monetary Fund, fearful of backlash ahead of elections due in October. But in recent days, with the prospect of national bankruptcy looming and no friendly countries willing to offer less painful bailouts, Islamabad has started to bow to pressure.
The government loosened controls on the rupee to rein in a rampant black market in US dollars, a step that caused the currency to plunge to a record low. Artificially cheap petrol prices have also been hiked.
"We're at the end of the road. The government has to make the political case to the public for meeting these (IMF) demands," former World Bank economist Abid Hasan told foreign news agency. "If they don't, the country will certainly default and we'll end up like Sri Lanka, which will be even worse."