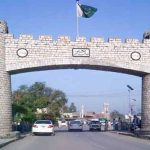 ISLAMABAD: Minister for Religious Affairs Noor-ul-Haq Qadri has reiterated Pakistan Tehreek-e-Insaf (PTI) government stance to protect blasphemy laws.
In a statement, he said the legislators of PTI would vehemently oppose amendments in 295 C, Pakistan Penal Code (PPC). The amendment in the blasphemy law was approved by the previous cabinet.
He said Minister for Information Technology Khalid Maqbool Siddique had already tabled a motion in Senate on September 27 for taking back the proposed amendment bill in blasphemy law, which is still pending in the upper house. Another similar motion has also been moved in the Senate on October 11.
In August, the Dutch government drew widespread condemnation after one its politicians announced to hold blasphemous caricatures contest.
Pakistan also mobilized its diplomatic channels to force the Dutch politician and the government to cancel the event. And later on Aug 31, Foreign Minister Shah Mehmood Qureshi announced that the Dutch government called off the competition of blasphemous caricatures planned by far-right politician Geert Wilders, an avowed anti-Islamist.
Wilders' plan to hold the blasphemous event at his PVV party's offices in parliament stirred extreme anger among Muslims, particularly in Pakistan.
"We will have to make a strong strategy to do away with the issue of blasphemous caricatures once and for all. We will achieve this task through diplomacy," Qureshi had said.
The foreign minister said sentiments of Muslims in Europe were also hurt.
"We informed the Dutch foreign minister about sentiments of the Pakistan government and the people.
"The minister said the event had nothing to do with his government and it was a job of the individual person. He said the government did not support the blasphemous acts," he said.
Dutch Prime Minister Mark Rutte, in a statement, has distanced his government from the cartoon competition, saying it was not a government initiative.