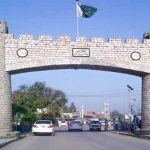 ISLAMABAD: The government has decided to take legal action against the Tehreek-e-Labbaik Pakistan (TLP) and booked its top leadership under treason and terrorism charges, Information Minister Fawad Chaudhry said on Saturday.
"The government has decided to take legal action against leaders of the Tehreek-e-Labbaik Pakistan. Therefore, Khadim Hussain Rizvi, the leader of the TLP, has been charged under terrorism and treason laws at the Civil Lines Police station in Lahore," Chaudhry told reporters in Lahore.
"Afzal Hussain Qadri, who is the second most important TLP leader, has been charged over treason and terrorism allegations in Gujrat," he said.
Another TLP leader, Inayatul Haq Shah, has been charged under treason and anti-terrorism laws in Rawalpindi while Hafiz Farooqul Hassan also been charged under similiar laws, Chaudhry added.
Tehreek-e-Labbaik Pakistan party led countrywide protests last month against the Supreme Court's acquittal of Asia Bibi, a Christian woman facing blasphemy charges. The days-long protests paralysed routine life in major cities of the country.
Police had already taken top TLP leaders including Rizvi into protective custody later last month when they refused to withdraw their call for yet another protest in Rawalpindi's Liaquat Bagh on November 25.
Speaking at a press conference in Islamabad, Chaudhry said that citizens had a right to protest but they should remain within the limits permitted by the Constitution of Pakistan.
The information minister said that vehicles were stopped and set on fire, while fruit vendors were looted during the protests which resulted in losses worth tens of millions of rupees.
Chaudhry said the government had taken a total of 2,899 people into custody from Punjab, as well as 139 persons from Sindh and 126 from Islamabad in the crackdown against the TLP.
He said that those who brought harm to the lives and livelihood of the people would be dealt with an iron fist, and that cases under terrorism laws would also be filed against those protesters who disrespected women or were involved in arson and damaged public property.
Chaudhry said that all political and religious parties were taken into confidence over the cases filed against the TLP leadership.
He said that the state cannot tolerate and stay silent on any protest which exceeds the boundaries permitted by the law.