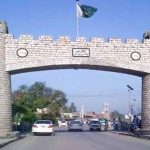 ISLAMABAD: The federal government has decided in principle to form a parliamentary committee National Action Plan (NAP) with an aim to resolve public issues.
Prime Minister Imran Khan has ordered formation of parliamentary committee on NAP to float recommendations regarding different sectors including health, education, agriculture and water.
Speaker National Assembly Asad Qaisar has been tasked with implementing the government's plan for resolution of public issues.
It has been decided that all political parties will be inducted in parliamentary committee for implementation on national action plan. Speaker National Assembly has started contacts with parliamentary parties.
The committee will then give recommendations to the prime minister for resolving basic problems faced of the public.
The report would subsequently be tabled in the parliament. Overseas Pakistanis will also be consulted for their opinion.
On Dec 3, the federal government had decided to amend the 20-point NAP. The plan was announced by the then premier Nawaz Sharif ,after the heinous attack over Army Public School (APS) Peshawar that killed at least 144 people including 132 children.
The incumbent PTI led federal government decided to amend the NAP and abolish majority of points of the currently enforced National Action Plan, and asked provinces to table their proposals for the amended plan.