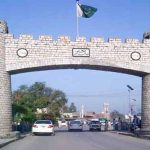 ISLAMABAD: The government has decided to keep the prices of petroleum products unchanged for January, Finance Minister Ishaq Dar announced Saturday.
The Oil and Gas Regulatory Authority had earlier recommended an increase of Rs0.30 per litre in the price of petrol and an increase of Rs.3.94 in the price of high speed diesel.
The government will be subsidising petroleum products by Rs4 billion in order to maintain prices at current levels, the finance minister said.
The government had increased petrol prices by Rs2 for the outgoing month after a gap of almost seven months. Though Ogra had proposed an increase of Rs6.24 in price of petrol, the government raised the price by Rs2 after seven months of stability in the prices.
However, the prices of kerosene oil and light diesel oil had been kept unchanged.
Petrol and high speed diesel are the two major products that generate most of revenue in oil sector. The HSD sales across the country are average 600,000 tonnes per month against monthly consumption of around 400,000 tonnes of petrol while kerosene sales are less than 10,000 tonnes per month.