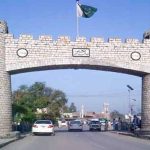 ISLAMABAD: The federal government has decided to establish border markets in the border areas with Afghanistan and Iran.
Prime Minister Imran Khan has tasked the commerce ministry to complete necessary requirements for the establishment of border market as the markets will facilitate dwellers of the entire region to perform trade.
Local media reported that the matter of forming those markets would soon be raised with the governments of Iran and Afghanistan.
It is pertinent to mention here that the markets will be established at specific locations in the border regions with the two countries, and those specific spots will be identified by the provincial governments of Khyber Pakhtunkhwa and Balochistan.
The border fencing and smuggling across the borders has been affecting trade activities in the region, and the government also planned to take security agencies, customs and the NADRA into confidence for carrying out the task.