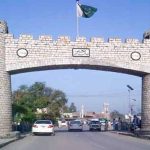 In compliance with the federal government's agreement with the proscribed Tehreek-e-Labbaik Pakistan (TLP), the Punjab Home Department on Thursday approved to exclude names of 90 workers of the banned religious party from the Fourth Schedule.
A meeting was held at the office of the Punjab Home Department in Lahore on Thursday to deliberate on the decisions taken by the Steering Committee which was formed to sort out affairs between the government and the outlawed religious outfit.
The meeting which was presided over by Punjab Law Minister Raja Basharat was also attended by Home Department Additional Chief Secretary Zafar Nasrullah, Punjab IG Police Rao Sardar and other officials.
The meeting also made important decisions regarding monitoring of people named in the Fourth Schedule and it also gave approval for  the removal of names of the proscribed TLP workers from the Fourth Schedule.
Sources divulged that the meeting also gave approval for the release of another 100 workers of the banned TLP.