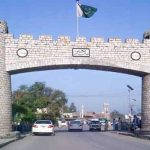 ISLAMABAD: The Government has decided to withdraw notification to lease out National Broadcasting House of PBC in Islamabad.
The development came following negotiations of a representative delegation of employees of Radio Pakistan with Minister for Information and Broadcasting Fawad Chaudhary and Minister of State for Parliamentary Affairs Ali Muhammad Khan at Parliament House in Islamabad.
During discussions, the Minister said the Government has no intention to wind up Radio Pakistan or retrench its employees.
He, however, said that Radio Pakistan itself may formulate a proposal for revival of the Corporation.
Director of News and Current Affairs Javed Khan Jadoon informed the Minister that there were bright prospects for bringing about improvements in the organization.
The Minister assigned him the task of preparing a plan for the purpose and submit it on first of November this year.
Later, addressing the protesting employees outside premises of the Parliament House, Minister of State Ali Muhammad Khan assured that Information Minister would take all decisions while taking the employees of Radio Pakistan on board.
The protesting employees then dispersed peacefully.