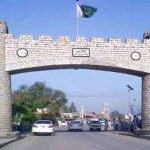 ISLAMABAD: The Federal Minister for Religious Affairs and Inter-faith Harmony Sardar Muhammad Yousuf on Thursday declared that the year 2018 will be called Khatm-e-Nubuwwat Year.
While addressing a seminar titled Completion of System of Revelation , he told that his ministry will observe the year in the spirit of the Finality of Prophethood of Muhammad (PBUH).
He was invited at the new series of seminars under the name An-Nabi Ul Khatam.
Yousuf said that Quran and Hadith are the only way of guidance for Muslim Ummah and the Muslims can fulfill their responsibilities by following guidelines of these two sources, according to Radio Pakistan.
He declared that Khatm-e-Nubuwwat is the "basic status of faith for a Muslim". Meanwhile, religious scholar Prof. Dr. Tahir Mehmood highlighted the significance of the revelation in light of Quranic and Hadith references.