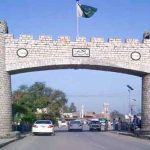 KARACHI: Governor State Bank of Pakistan Dr. Reza Baqir has said government's economic team is bringing economic stability in the country.
Addressing a presser in Karachi on Monday, he said economic plan of the government envisages stabilizing the situation which will lead to higher and inclusive growth, passing benefits to middle and lower classes.
The Governor State Bank said, "our external deficit and fiscal deficit are being addressed according to our economic plan."
Baqir expressed confidence in the country's economic future, and assured that the "two main causes of our instability are being effectively addressed in a credible manner".
The SBP chief, describing uncertainty as "the biggest opponent" facing the economy, stressed the need to "proceed in a way that eliminates this uncertainty, and our people get the confidence that we have in the SBP, and that I personally have in a positive future."
"Our exchange rate regime should be seen as a part of a broader package of economic reforms. There are a lot of influences on our country's exchange rate policy," Baqir told reporters.
"In the past, one of the challenges faced by the SBP has been interference by the government. Specifically, when the government wants to borrow money but is unable to secure a loan from a commercial bank, it turns to the central bank. When the SBP finances the government, it has an inflationary effect and puts pressure on the exchange rate," he explained.
"Under this budget, the government will not borrow from the SBP," he said, adding that the decision would make an improvement to the exchange rate.
Explaining the role of the central bank in maintenance of interest rates, Baqir said the banks "try to manage price stability and reduce inflation and create financial stability so that the financial system does not collapse".
Differentiating between financial stability and exchange rate stability, he said that a lot of emerging markets have found financial stability even as their market-based exchange rate keeps moving around.
"Interest rates in Pakistan are set by an independent body called the monetary policy committee. The mandate is to fight inflation ─ that's their number one consideration. Along with that, we have a forward-looking manner," which he said helps the government forecast what inflation is going to be like in the future.