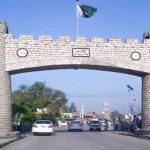 ISLAMABAD: Special Assistant to Prime Minister Imran Khan on Accountability Shahzad Akbar said on Sunday that the government has immediately acted on the ruling given by the Lahore High Court (LHC) for removal of former premier Nawaz Sharif's name from the Exit Control List (ECL) for travelling abroad for medical treatment.
Mr Akbar held a press conference in Islamabad, and pointed out that there were four basic points of the judicial decision.
"A name of any convicted person cannot be taken out from the ECL; however only a one-time permission was granted [to Nawaz Sharif] on humanitarian grounds," he said, adding that the court has taken a written undertaking from them instead of an indemnity bond.
"The first point was only a one-time permission should be granted, the second was that [Nawaz Sharif] would travel abroad for treatment, the third was that he would return back to face cases against him and the fourth was to guarantee his return [to Pakistan]," he maintained.
Mr Akbar further recalled that Sharif's sons and the father-in-law of his daughter were fugitives. "He is not sadiq and amin and obtained a certificate for that from the court."
"We know how much you have respect for the courts […] the indemnity bond was to be given by Shehbaz Sharif; whereas the court has taken written undertaking from both of them" he said, adding that they had been breaking their promises in the past.
"A government representative can verify medical certificates, and the written undertaking has guaranteed their return," he said, adding that if violated, this would be a serious crime.