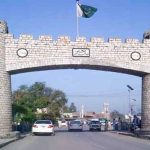 ISLAMABAD: The federal government has green-lighted the deployment of Pakistan Army soldiers in aid of civilian administration across the country to cope with the novel coronavirus crisis as partial and complete lockdown is in place in almost all provinces effectively implement the social distancing measures.
The Ministry of Interior on Monday issued several notification in this regard approving the requests of all four provinces – Sindh, Punjab, Balochistan and Khyber-Pkhtunkwa – and federal territories and Azad Jammu and Kashmir (AJK) for the deployment of armed forces.
The nationwide tally of COVID-19 patients topped 875 with 394 cases in Sindh; 110 in Balochistan; 246 in Punjab; 38 in K-P; 71 in Gilgit-Baltistan; 15 in Islamabad; and one in AJK with six deaths.
The Sindh and AJK governments have imposed a blanked ban on the movement with a few exceptions, besides closing all non-essential markets, offices and shutting transport and educational institutions to limit the interaction of the people to stop community spread of the contagion.
Whereas, other regions including Punjab and K-P have also imposed a partial lockdown.
A day earlier, Pakistan Army also reiterated its resolve in fighting against the deadly epidemic, saying: "Nothing can defeat a responsible and determined nation."
"Pakistan Army, being part of national effort, shall serve and protect the nation as a sacred duty InshAllah," army chief General Qamar Javed Bajwa was quoted as saying during the meeting held at the General Headquarters in Rawalpindi.
Prime Minister Imran Khan approved provincial governments' requests seeking military in aid of civil power, Special Assistant to Prime Minister on Information and Broadcasting Dr Firdous Ashiq Awan said earlier in the day.
The prime minister has allowed the provincial governments to enforce 'partial lockdown' on 'need-base' under Article 245-A of the Constitution of Pakistan, she added.