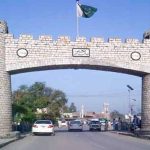 SWABI: Speaker National Assembly Asad Qaiser has rejected all the rumours and clarified that the federal government has no intentions to repeal the 18th constitutional amendment.
While speaking at a ceremony in Swabi, Asad Qaisar said that centre is enjoying limited powers and Prime Minister Imran Khan's statement regarding the amendment should not be taken wrongly.
Addressing a rally at Khangarh in Ghotki on Saturday, Prime Minister Imran Khan had said after the 18th Amendment, the federation has become bankrupt.
He had said the center had to face fiscal shortfall to the tune of Rs600 billion due to debt servicing, federal transfers to the provinces and defences budget that leaves nothing for development.
While defending the prime minister, Qaiser said Imran Khan has no plans to changing Benazir Income Support Program (BISP).
The petroleum prices have been jacked-up with 'big heart' as the price is increasing in the international market.
The NA speaker maintained he is trying his hard to take everyone on board in the house for smooth working of the parliament.
Back in the month of February, Foreign Minister Shah Mehmood Qureshi had also Dispelled the 'rumors' of reversing the 18th Amendment and clarified that there was no threat to the democracy,18 Amendment, or the constitution in the country.