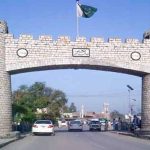 ISLAMABAD: Special Assistant to Prime Minister on Accountability Shahzad Akbar has said that government has undeniable evidence to prove that the assets accumulated by Shahbaz Sharif family funded by the remittances sent from abroad through telegraphic transfers.
Addressing a press conference in Islamabad, he said that Shahbaz Sharif's family has no source of income inside the country but it received 26 million from abroad.
Shahzad Akbar said 99 percent assets of Hamza Shahbaz were bought from the money remitted between 2007-08 to 2010-11 by different individuals and fake companies.
He said that money was transferred to Shahbaz Sharif's son in law Ali Imran's company from the fund meant for earthquake affected people.
The Special Assistant on Accountability said similarly money was sent in Shahbaz Sharif's account through remittances from abroad.
He challenged Shahbaz Sharif to sue him in a London court and he will present all the evidence in London court.
He said that all the properties made from Naveed Ikram's property worth one billion rupees have been confiscated.