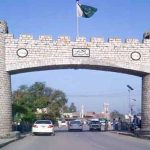 ISLAMABAD: The joint investigation team (JIT), set up to examine the business dealings of the Sharif family abroad, on Monday told the Supreme Court (SC) that not only have some governmental departments shown reluctance in handing over relevant records, but some records have also been tampered with.
The SC bench overseeing the implementation of the Panama Papers verdict was hearing various issues surrounding the investigation on Monday.
The JIT also rejected the majority of the allegations levelled against the body in connection with the 'leaking' of a CCTV image of Hussain Nawaz's appearance before the team. It also reportedly told the court that punitive action has been taken against one individual suspected of involvement in the incident.
The bench ordered the attorney general and the team of lawyers representing Prime Minister Nawaz Sharif's elder son, Hussain Nawaz, to submit their replies to the allegations levelled by the JIT by June 14.
It also told the attorney general to examine the written report submitted by the JIT on the CCTV image leak and recommend what action can be taken against the person who circulated the photo.
It also asked the deputy attorney general, who was present for the proceedings, if it was wise for the JIT's report on the problems being faced by the team to be made public.