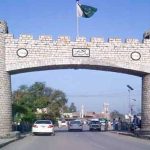 ISLAMABAD: The government has turned out to be a facilitator of Nawaz Sharif for issuing a statement that those who attack a hotel in Mumbai were actually belonged to Pakistan, media reports said.
According to media reports, the government – on the directives of Nawaz Sharif – had provided security clearance to Cyril Almeida, a staff member of Dawn Newspaper, at Multan Airport.
The reports while quoting sources have said that Cyril Almeida was given Very Important Personality (VIP) protocol at the airport.
Apparently, the government was involved in the anti-state interview of Nawaz Sharif conducted by Cyril Almeida, the reports added.
The reports further said that all the arrangements to take Cyril Almeida to Multan were finalized on the directives of Nawaz Sharif.
Let it be known that Nawaz Sharif in his interview with Dawn Newspaper conducted by its staff member Cyril Almeida has revealed that those who attacked a hotel in Mumbai in 2008 were hailing from Pakistan.