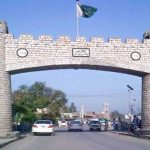 PESHAWAR: Speaker Khyber Pakhtunkhwa (KP) Assembly Mushtaq Ghani has said that Pakistan is facing a huge number of problems adding that when PTI leadership assumed the government the country was on verge of collapse.
Addressing meet the press at Peshawar press club Speaker Khyber Pakhtunkhwa (KP) Assembly Mushtaq Ghani said that "I have been trying for the first day to coordinate between the opposition and the government adding that the KP assembly has approved as many as 22 legislations so far.
Mushtaq Ghani revealed that he has caught corruption of worth five billion rupees adding that the amount recovered from national exchequer will be return back to respective departments.
The speaker said that Pakistan is facing numerous problems adding that Pakistan was near the verge of collapse when the PTI took responsibility of the government.
Impressed with Imran Khan personality now investors are coming to Pakistan, the speaker said.
He said that he offered foreign investors to use his office adding that 20% economic zone of Rashkai by Chinese investors only while the remaining 20 % part will be used by locals.
Regarding poverty alleviation, Mushtaq said that we should eat one bread instead of two adding that time is near when we will eat two and a half bread.