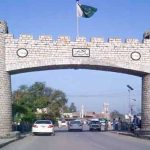 JAMRUD: Prime Minister Imran Khan has announced a ten-year special development package for tribal districts.
Addressing a big public meeting here on Friday, he said one hundred billion rupees will be spent on the development of tribal areas each year. He said health, education and sports facilities in tribal areas will be enhanced.
Imran Khan said that the national economy is in crisis due to corruption and wrong policies of the previous government two governments.
He said about half of the revenue being collected through taxes is spent on payment of interest on foreign loans.
Imran Khan reiterated that no NRO will be given to the corrupt elements.
Reacting to PPP's leaders Asif Ali Zardari and Bilawal Bhutto Zardari's threats of movement against the government, the prime minister challenged both PPP leaders to spend one week in a container. "Zardari sahab, no matter how hard you push … no government is going anywhere. But you are going to jail," he told the former president.
He alleged that people had been paid "Rs200, Rs500" to attend the gathering held by the PPP on the occasion of the 40th death anniversary of former prime minister Zulfikar Ali Bhutto on Thursday.
Khan said: "Asif Zardari, know that a dharna is successful only when you share the people's grief and stand up for them." "I invite you and your son, come and stage a dharna in Islamabad," the prime minister said, adding that he will not only arrange containers for the PPP leaders but also provide them food.
"But it is my challenge [to you] to spend one week in a container," he said, claiming they would not be able to do so because politicians become leaders with their struggles and not by claiming that they "have inherited a political party".