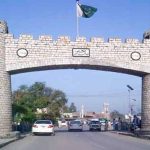 ISLAMABAD: The deadlock between the government and the opposition over the appointment of the Chief Election Commission (CEC) is coming to an end as it has been agreed upon to recommend new names.
According to reports, the government and the opposition have withdrawn the names that were proposed earlier and will now forward new nominees to the parliamentary committee in next few days.
A parliamentary committee meeting is expected next week for the appointments of the CEC and the Election Commission of Pakistan (ECP) members.
It has been learnt that the government has prepared an initial eight-name list for the CEC and their track records are being checked under scrutiny process.
Let it be known that the government had earlier proposed the names of Babar Yaqoob Fateh, Arif Khan and Fazal Abbas Maken while the opposition had recommended Nasir Mahmood Khosa, Jalil Abbas Jilani and Akhlaq Ahmad Tarar.